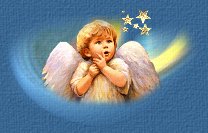 Watchful Eyes
Angels ~~ angels, flying over me
flying on the wind from beyond.
Hovering, flying up in the clouds
looking down from the stars above.
Peeking, down watching over us..
I can hear the flap of their wings..
Singing ~~ singing most beautifully
While, they watch and protect us,
from heaven above.

Author ~ © XxSuNkiSsx ~ a.k.a. Betty
All rights reserved ~ November 8, 2002
Used wioth permission
Read more of Betty's poetry Here